How To Choose The Best Air Conditioner Installer
When you buy an air conditioner, you're only halfway done. The next step is to find an air conditioner installer to have your unit fitted inside your home. Your choice of air conditioner installer is just as important as the air con unit you buy, so take your time to make sure you select a qualified and experienced technician who you can trust.
From finding the right air conditioner installer to estimating the cost of your installation, our full guide to air conditioner installation will help make the process easier for you.
Finding the right air conditioner installer
The easiest way to find a licensed, experienced air conditioner installer is to deal with your chosen air conditioner manufacturer's preferred dealers in your area. Most of these providers will be able to both sell you an air conditioner and provide an installation service.
Find Toshiba Air Conditioning specialist dealers near you
When you choose a reputable manufacturer's preferred air conditioner installers, you'll gain peace of mind knowing they will install your unit correctly, hold all the necessary licenses and provide you a fair market price.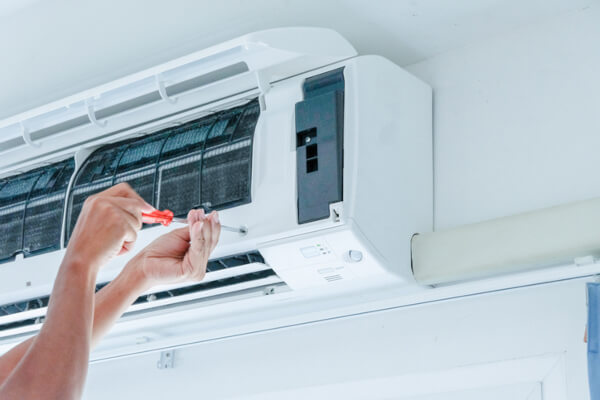 Why your air conditioner installer must be licensed
If your air conditioner isn't installed correctly, you may void its warranty and it may not function correctly. To make sure this doesn't happen, choose an air conditioner installer that's experienced and fully licensed.
Toshiba tip: to check your installer's license, go to lookforthetick.com.au and type in their license number and surname – you'll be able to see what type of license they hold and whether or not it's current. Businesses that install air conditioners should display their license number openly.
Air conditioner installers are legally required to have an ARC refrigerant license to handle the refrigerants inside your air con when installing it.
The cost of air conditioner installation
The cost of your air conditioner installation will vary according to a number of factors:
Type of unit you're getting installed; single-split systems are usually cheaper than multi-split systems or inverter-ducted systems.
Number of air conditioners you're getting installed.
What's required for installation. If the air conditioner installer needs to use more piping or upgrade your electrical system, the installation may cost more.
The cost of your air conditioner installation will be affected by where you choose to install the unit. Your installer will be able to advise you on the best position for your unit, but generally, it's best to choose somewhere that's close to where an outdoor unit may be installed, and high on a wall in a position where it can blow air across the entire room.
What to look for in an air conditioner installer
Besides a license, there are a number of things you should look for in an air conditioner installer:
A helpful sales process: some air conditioner installers may pressure you during the sales process to try and sell you a more expensive unit. If you feel pressured, walk away. A good installer will instead give you advice on what's best for your home and present you with the information you need to make a decision.
Transparency: your air conditioner installer should volunteer their license number, provide detailed and professionally presented quotations including all costs, and be transparent throughout the entire process.
Prompt communication: your air conditioner installer should always get back to you promptly with clear responses to your questions.
Quality service: the vast majority of air conditioner installers provide a quality, professional service. That means turning up on time, cleaning up after the job and getting back in touch once the unit is installed to check that it's functioning properly.
Choosing a quality air conditioning installer is just as important as choosing the right air conditioner for your home. To make sure your installation is seamless and stress-free, take some time to find a licensed, experienced installer that you can trust – you'll be glad you did.